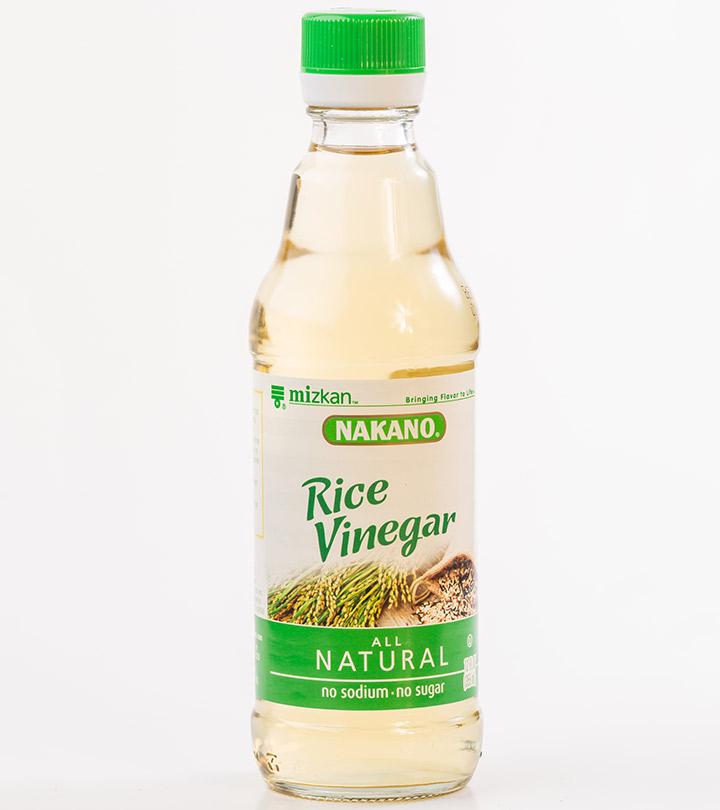 Are you a big fan of Asian cooking? Can't get enough of Kylie Kwong's cooking show on TV? Well, then you must have come across rice vinegar at some point of time. Rice vinegar is one of the most widely used ingredients in Asian cooking, and it's not always easily available in your local grocery store. Hence, knowing how to make your own rice vinegar often comes in handy!
On that note, this post talks about rice vinegar and how you can prepare it at home. Would you like to know more? Keep reading!
Rice Vinegar – An Overview:
Rice vinegar is usually made from fermented rice, but if you would like to use rice wine instead, that works equally well. Rice wine is not only widely used as an ingredient in most Asian dishes; it has also been popular as an alcoholic drink in Asia for hundreds of years! The procedure for making rice wine at home takes a number of days. But if you follow the instructions carefully, it is fairly easy.
[ Read: How To Make Balsamic Vinegar At Home ]
How To Make Rice Vinegar?
Ingredients:
4 cups of white rice
Approximately a quarter of a Chinese yeast ball
White sugar
A few eggs.
Also take a mixing bowl, double boiler, a couple of measuring cups, 2 glass containers and a nice clean cloth.
What Are The Steps You Need To Follow?
Use The White Rice:
Put the rice into a nice big mixing bowl and cover it with water.
Let it soak for around 4 hours.
Cover the mixing bowl with a cloth.
After 4 hours, strain this rice mixture using a clean cloth and keep the rice water in the bowl.
Place the bowl in the fridge and keep it there overnight.
Preparation Of The Mixture:
Next, you have to measure the rice water that was prepared previously.
For every cup of rice water that you use, put in ¾ cup of white sugar.
Mix the sugar and the water together until all the granules are dissolved completely.
Cooking The Mixture:
The next step is to cook the sugar and rice-water mixture in a double boiler for about 20 minutes.
Then, allow the mixture to cool for some time.
After the mixture has sufficiently cooled off, transfer it into a nice glass container.
Adding The Yeast:
First, measure how many cups of the sugar-rice water mixture you have.
Then, ensure that for every 4 cups of this mixture, you put in about a quarter tablespoon of yeast.
Make sure that all the ingredients are mixed well.
Fermentation Of The Mixture:
This step requires you to be very patient in order to achieve the desired results.
In order to get your rice vinegar, you have to wait patiently for this mixture to ferment.
This usually takes around 5 days, and can go up to a week's time.
Keep checking the mixture for bubbles.
Once all the bubbles have disappeared, the mixture will be ready.
Completion Of The Fermentation Stage:
The above mixture has to be fermented for a second time.
Allow it to ferment for another 4 weeks.
The duration for second fermentation will differ depending on your taste.
[ Read: Health Benefits Of Black Vinegar ]
Strain The Rice Vinegar:
Use a clean cloth for straining and then boil it again in the double boiler.
If the mixture is cloudy, and you want it to become clear, add 2 egg whites for every 40 cups of the mixture before reheating the mixture.
Now that you know how to make rice vinegar at home, what are you waiting for? The above steps are very easy to follow, and if you measure correctly and ferment the mixture for the right duration, you will have delicious rice vinegar in a jiffy.
Tell how this post has helped you. Comment in the box below!
Recommended Articles: